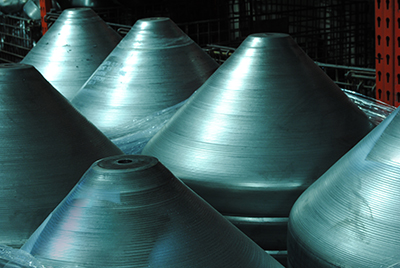 G&G Metal Spinners is the industry leader for heavy gauge metal with capabilities in alloys up to 1 1/4 inch thick, and 2 1/2 inches thick in Aluminum.
G&G can spin components from under one inch in diameter to 12 feet, and lighter alloys to 160 inches. We fully comply with current nuclear, aerospace, military, and ASME codes.
G&G is not limited to only spin forming material. We also offer our customers fabrication, welding, grinding, polishing, punching, milling, heat treating, and non-destructive testing.
Our experience includes manufacturing quality products to a variety of industries, ranging from food processing, laundry equipment, air movement and filtration, wheels, and agricultural equipment. Additionally, our products have been used in aerospace and nuclear industries.
We comply fully with accepted nuclear, aerospace and ASME practices. G&G is large enough to handle the toughest jobs with a focus on details and precision.